Coming off of a 3-9 (1-7) season, Wake Forest has been picked to finish last in the ACC's Atlantic Division for the 2016 football season. The Demon Deacons were picked 13th in the conference overall, with Virginia finishing well below the Deacs in voting.
Atlantic
1. Clemson (1,293)
2. Florida State (1,176)
3. Louisville (961)
4. N.C. State (704)
5. Boston College (441)
6. Syracuse (426)
7. Wake Forest (347)
While it is somewhat difficult to get too worked up over preseason polls, especially given the fact Wake has suffered through some tumultuous years recently record-wise, I think last place is a little harsh. At the end of the day preseason polls mean very little, and perhaps even less if the media isn't even going to bother doing research on the schedules of the teams.
Coach Dave Clawson returns anywhere from 15-17 starters depending on what website you look at (and who winds up starting), and experience returning is usually a reasonable indicator of whether or not a team will see an uptick in wins from a bad year.
Since 2008, when four teams finished 4-4 and tied for last place (also tied for 3rd place) in the Atlantic, 0 wins or 1 win has been the number of ACC wins for the team in the Atlantic basement. If recent history is any indicator of what it takes to stay out of last, Wake simply needs to win two acc games this season.
Given the fact that Wake Forest has one of its most favorable schedules in history, getting Syracuse, Boston College, and Virginia all in Winston-Salem, I don't think it is outrageous to expect two or more wins in the ACC.
#TheRivalry moves to where its rightful place on the schedule---the last game of the year, where Wake Forest and Boston College will play the sequel to one of the best games ever witnessed. That game is setting up to have wide-reaching implications not only for who may stay out of the basement, but also bowl eligibility for one or both teams.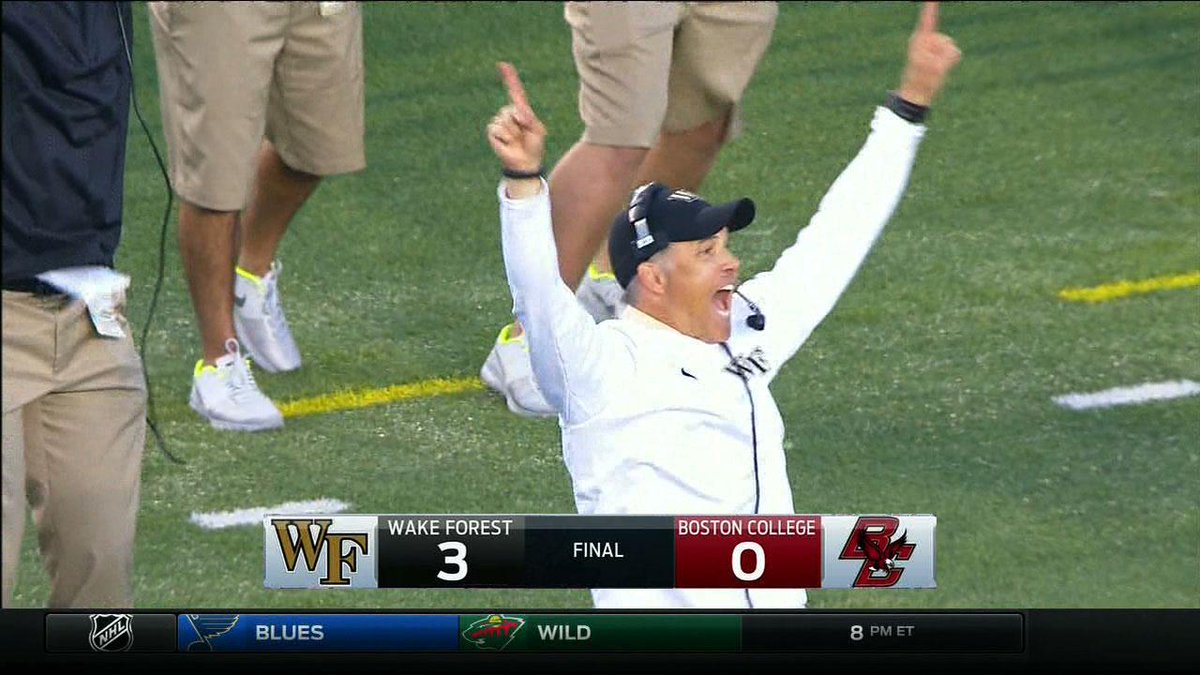 While non-conference games obviously play no role in how the Deacs will fare in the final ACC standings, the schedule also sets up favorably there, as Wake takes on Tulane, Delaware, Army, and @Indiana. Vegas is usually pretty good at what they do, and the O/U is set at 5.5 for Wake. It's not a stretch to say that the team is shooting for a bowl game this year and would be disappointed if they do not make it.
I will go ahead and go on record that Wake Forest will finish ahead of Boston College and Syracuse (I get the tie thank you very much).
If the Deacs go 3-5 in the ACC and 3-1 in the non-conference, that should be more than enough to stay out of last place and go bowling for the first time since 2011.