I have been sitting on this article for a while due to the whirlwind that occurred soon after the Deacons' exit from the NCAA tournament, but with the recent good news I felt it was finally time.  Anyone who knows me knows that I have been a huge fan of Ishmael Smith since day one.  His excellent court vision, speed, heart, leadership and smile make it really hard not to be a fan, especially if you have followed Wake Forest basketball closely over the past four years.  Click through as I pay tribute to my favorite Deac of all-time.
     The first time I watched Ish Smith play was the last game of his high school career.  His Central Cabarrus squad was taking on Jamie Skeen's highly rated North Meck team.  Though Skeen was out nursing a knee injury, his team was still rated atop the 4A polls.  The first thing I obviously noted about Ish was his blazing speed, passing ability and frail 150 pound frame.  While I was not sure he could compete in the ACC being so skinny, I saw something at the end of the game that made me realize why he would be so valuable to Wake over the following four years.  As the buzzer sounded and North Meck won as expected, Smith could not contain his emotions and lie face down, sobbing on the floor in the middle of the court.  Eventually some teammates came over, peeled him off the hardwood and tried to console him.  His passion and dedication for the game and hatred of losing were evident and at that moment I had a feeling the Deacs had themselves a leader.  This time, at least, I was right.
     After Wake severely underperformed the prior season, it was obvious how difficult life was in the ACC without a true point guard.  Though Wake had Justin Gray and Eric Williams, they had trouble taking care of the ball and getting it into Big E's hands consistently.  While Ish's freshman year was a struggle with 3 freshmen starting and senior Kyle Visser handling a lot of the load, there were some nice takeaways.  Smith finished the season leading the ACC in assists per game and his performance in the epic first round marathon victory against fifth seeded Georgia Tech was impressive.  Other than Harvey Hale's inferno, the two moments I remember most from that game happened just a few minutes apart from each other in the first half.  Both were nearly impossible passes in the lane, one to David Weaver for a big dunk in transition and the other wrapped around three players for another easy layup.  Ish finished the game with a double-double and an ACC tournament record 15 assists.
     Of course, it was not always a smooth ride.  His shooting, both from deep and the free throw line, and decision-making, especially early in his career, were discussed ad-nauseum.  Despite the criticism from many, Smith always said the right thing to the media, kept his smile on the court and busted his ass off it to get better and prove the doubters wrong about his basketball future.
     The moments that I, and I imagine most Wake fans, will remember about Ish were his clutch shots.  Though he was not a lights-out shooter by any means, something transformed him in the closing moments of a game.  After A.D. Vassallo's ill-advised 3-point launch and Gary Clark's banked three pulled Wake back into a game that most thought was over, Ish knew it was his turn to dagger the Hokies.  As the buzzer sounded, he drained a fade-away jumper from the free-throw line much to the delight of the holiday crowd at the Joel.  The security guard nearby my courtside seat did not appreciate my excitement and nearly tackled me to the ground with a stern shoulder to the chest, but that did not damper the moment.  The Miami Hurricanes soon suffered a similar fate on an almost identical shot.   Zoom forward to senior year, where Xavier got a taste of Ish's magic.  In a game that I felt Wake had lost at least three different times, #10 just refused to give up.  With a few deep threes and a baseline fader, Smith single-handedly willed the Demon Deacs to victory that night. 
     However, these were all just precursors to the shot that Ish would make in a much larger setting.  The NCAA tournament opener against Texas was a roller coaster ride for everyone emotionally invested in the game.  The Deacs started strong and appeared to be on their way to victory when the wheels began to fall off.  Eventually, Texas forced overtime and took a commanding lead, sending Wake fans into premature depression.  Luckily, the Longhorns did not execute down the stretch either and left the door open with several missed free throws.  With a one point deficit and under ten seconds left on the clock, everyone in black and gold knew who was going to shoot.  As expected, Ish took Avery Bradley to the right wing and faded just enough to get his shot off.  As the ball went perfectly through the net, the twelve people in my small apartment living room formed a frantic mosh-pit that I will never forget.  Yes, it was only a first-round victory, but after going through college without one it was pretty special.  The fact that the moment was created by a player that I had followed since high school and discussed his merits endlessly only made it that much sweeter.
    Ish finished his career at Wake Forest second in career assists behind only Muggsy Bogues.  He is the only player in Demon Deacon history to net 1,000 points and dish out 600 assists.  This week I was pleased to discover that he inked a multi-year deal with the Houston Rockets after a strong summer league performance with the team.  The (formerly) skinny 150 pound kid from Concord who isn't big enough for the ACC will now take his game to the NBA to prove a new set of doubters wrong.  I wouldn't bet against him.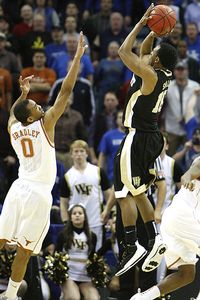 Thanks for the memories, Ish.