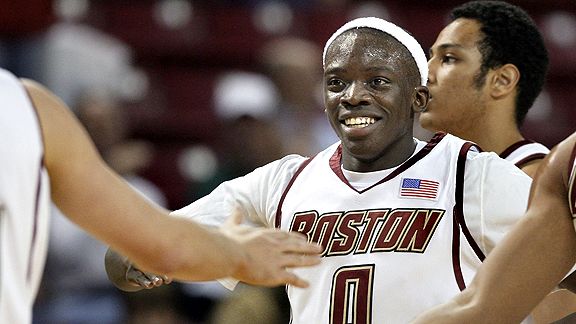 Hello everyone. Ready for a little chit-chat? Well we've got just the ish for you. So without further ado, here's today's Coffee Talk.
WakeJake: So Mr. Rickman, today the Deacs play a struggling BC team in the friendly confines of LJVM Coliseum. I think pretty much every Wake fan is pleasantly surprised with the season so far, especially with the softer part of the schedule remaining. A win tonight would put them at an impressive 7-3 in conference and comfortably in position for a bye in the ACC tournament. What are your first impressions of the matchup tonight?
MRickman: It's really funny, I'm pretty sure that the words "pleasantly surprised" have been used to describe this Demon Deacon team almost as many times as "gunslinger" to Bret Favre. But man, 7-3 in conference sounds good. You'll remember we started 5-4 in conference last year, and that team was ranked #1, even if it was for a split second.
As to this matchup, I think this is a bit of a breather for Wake fans. I hate saying that because we'll go out and lay an egg (so I guess this is the obligatory knock on wood), but with Joe Trapani out and this game at home, I just see Wake being able to get comfortable in this one as long as they stay hungry.
WakeJake: Hesitantly, I agree. BC, like Wake, has had a couple nasty road losses in conference. They didn't really put up much of a fight at Clemson or Duke, but I do give them a lot of credit for pushing a solid VT team to the limit in Blacksburg and overcoming a 17-point deficit in Coral Gables to beat Miami. BC is always a sneaky team and will not be afraid to "punch us in the mouth" as L.D. Williams so eloquently stated in the Journal today. It would also be a crime not to mention that BC is 3-1 all time at Wake Forest and last year was the first time that Wake beat BC on any floor.
MRickman: It would be a crime. But it would also be a crime not to mention that Wake Killer Tyrese Rice isn't on the team anymore.
WakeJake: True. I recall him draining plenty of threes from the Wake mid-court logo during my undergrad years.
MRickman: He had no conscience. But as far as this game, it really comes down to: where is the scoring going to come from for B.C.? With no Trapani, does Rakim Sanders step up? Reggie Jackson? Are we going to have a Biko Paris sighting? And how many headbands are we going to see?
WakeJake: I'm going to cast a wide net and say watch out for Reggie Jackson, Rakim Sanders and Corey Raji. Raji is undersized in the post, but he really works his butt off on the boards and can cause a lot of problems for the Deacs. We saw a similar player for UNCG and he had no problem working his way though the trees to grab O-rebounds. As for Reggie "Halo" Jackson, he is a streaky player that can score from anywhere on the court. L.D. will certainly draw this assignment and will get a chance to yet again prove his worth.
MRickman: We've seen that L.D. is a big key to this team. When he is out of foul trouble, of course. And that's been a head-scratcher. He's fouled out of four games this season and seems to pick them up in bunches. Are refs targeting him, or is something else up?
WakeJake: While I definitely think that the refs target Chas (which is to be expected) I don't think that L.D. can blame it on the zebras. He picks up a lot of cheap fouls, much like C.J. Harris does on the perimeter. That being said, I would rather L.D. be aggressive and frustrating on defense than be worried about fouls. If that were the case, he wouldn't be much of an asset on the court considering his offensive weaknesses.
MRickman: On the subject of offense--are you in the camp that thinks that Ari Stewart's minutes should go up?
WakeJake: Pretty much. I think his minutes should be roughly equivalent to those of L.D.. It obviously depends on the situation though. If Wake has a nice 10ish point cushion in the last ten minutes I am much more comfortable with LD playing defense and not turning the ball over. However, if Wake is behind or is playing sloppy and can't make a shot, Mt. Ari should get the call. Stewart needs some work defensively and with decision-making at times, but he is a huge asset for this team off the bench.
MRickman: I do think Ari has improved his defense though as the season has worn on. His defense was admittedly laughable earlier in the year, but he has shown a commitment. And honestly, there is no reason that he can't be a top-flight defender in the league down the road. He just needs to eliminate touch fouls (something Harris has trouble with) and stay in front of his man.
When it comes to Harris and Stewart though, there is no question that their impacts are noted--in the Deacs' 6 conference wins this season, the two average over 19 points per game, in the three losses, that scoring drops to just over 10 points a game.
WakeJake: Very telling stat indeed. And now it is time for some predictions. Who ya got?
MRickman: Wake. This game is one that the Deacs should win and I think will win. Aside from that Miami game (which feels like forever ago now), Wake has won the games they were supposed to. If you look at it, we all thought the Deacs were going to lose to Duke and GT on the road--maybe not by as much as they did, but those weren't surprising.
I think the Demon Deacons take care of business at home, the crowd is a little better today because the pews are finally gone, and Wake moves to 7-3 in conference--let's put it at Wake 72, BC 60, as I said in my Q&A with BC Interruption.
What do you think Jake?
WakeJake: I think this will follow the similar pattern of the UVA and Miami home games. The Deacs will get off to a good start, get too comfortable and allow BC to keep it within range in the last ten minutes. Jackson's headband will fall off at least twice and Ishmael Smith will dunk at least once. Wake gets their 7th conference win,
Wake- 76, BC- 65