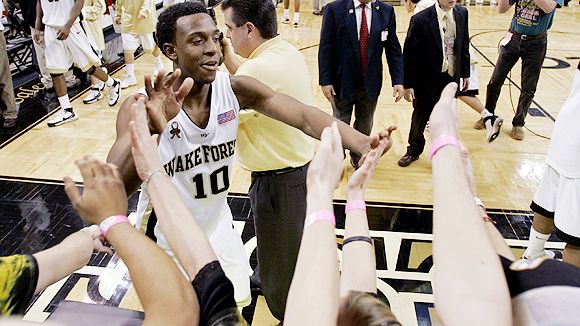 Today we have rounded up a couple great articles on the ever-smiling Ish Smith as well as several Duke previews and some updates on the basketball recruits.  Enjoy your NFL Sunday with the Wake and Duke game as the nightcap.
FayObserver.com - The Ish effect: Wake's point guard is always smiling
"I was putting on a front for them," he said. "I was crushed inside." So Smith stood up in front of the team and spoke candidly about the effort the Deacs had to give and the fun they had to have to reach their goals. "I had to let everyone know how I felt in my heart," he said. "And I had to let them know that I was sorry for not digging deeper to get us that win."
FayObserver.com - Wiederer: Note to self ...
Note to self: When feeling bummed, give Wake Forest point guard Ish Smith a call. I spoke with Smith for about 25 minutes Wednesday - the feature is coming Sunday - and he was all sorts of cheery. That was no shocker considering the night before he had hit a last-minute floater to deliver the Demon Deacons' an 85-83 overtime win over Maryland. But in the past four years, it's hard to think of a single instance where talking to Smith didn't instantly put me in a better mood. The kid is always friendly, often insightful and candid and attacks his college basketball career with the perfect perspective. "I'm playing the game I love. You've got to have fun," Smith said. "Who doesn't like having fun? So why not smile and enjoy what you're doing?"
College Hoops Weekend Picks - Wake Forest at #7 Duke — BetUS Locker Room
While I expect Duke to win straight up, I believe that Wake Forest has the players on their roster to keep this game close enough to cover the college basketball betting odds. With Aminu, Chas McFarland and others down low, Wake has dominated the boards all season, ranked second in the NCAA, averaging 43 a game. Because of their strong play down low, I expect that to offset Duke's outside shooting and keep things close.
Wake Forest-Duke Preview - Jan. 16, 2010 - NCAA Division I Mens Basketball - CBSSports.com
"We're not going to live and die by the 3 this year," Smith said. "We can get it in other ways. We can drive the basket, and we have bigs who want to finish inside. Whenever our 3-pointers aren't falling, we have other ways to score." Duke also thrived on the glass, outrebounding Boston College 40-27 while improving to 4-1 this season when shooting below 30 percent from 3-point range. During the 2008-09 season, coach Mike Krzyzewski's team was 5-5 in those situations.
Sunday hoops: Duke, Wake Forest meet; Saint Louis at Charlotte - CharlotteObserver.com
Wake Forest sophomore forward Al-Farouq Aminu is doing nothing to contradict the idea that he will be ready for the NBA after this season. Aminu leads the ACC with 11.7 rebounds per game but still runs the floor better than most players at his position. Duke has some good big guys, but none possesses Aminu's combination of skill and athletic ability.
Petersburg defeats Benedictine, 73-55 | Richmond Times-Dispatch
Kima broke open the game in the second quarter by outscoring the Justices (11-3) 23-9. JM's Wake Forest-bound Travis McKie was just 1 of 6 from the floor in the half. He scored 17 points in the second half and finished with 25. He also grabbed 17 rebounds. Willie Mangum added 15 points.
WFU seniors craving a victory at Cameron
"It's a great atmosphere and I'm excited to go there and play," Smith said. "It's just another ACC road game, and you've got to get it to be the elite team we want to be. "That's the mindset we're going to go in there with."
Basketball Game Notes - Wake Forest at No. 8 Duke - WAKE FOREST OFFICIAL ATHLETIC SITE
Strength vs. Strength Beyond the Arc Wake Forest leads the ACC and ranks second nationally in three-point percentage defense, while Duke ranks second in the ACC in three-point percentage. Duke is averaging 8.0 3-pointers per game, while Wake Forest has held foes to 5.4 3-pointers per game.
My Take on Wake - Who Wins the Point at Duke? | JournalNow.com
Mike Krzyzewski has tweaked his defense to where it's not as reliant on ball pressure and taking away the passing lanes, but because the Blue Devils remain so adept at help defense, a good quick guard who knows what he's doing is probably still their great nemesis. If Smith can beat his man and make good decisions, then Wake has a shot at the upset.
ACC: The Weekend Breakdown - CharlotteObserver.com
Ish doesn't just dish - The Deacons (12-3, 2-1 ACC) have been living on the edge their past two ACC games, losing by a point on a last-second miss at Miami and beating Maryland in overtime on Ish Smith's bucket with 20 seconds remaining. There might be no player in the league who has improved as much as Smith this season, taking on a larger scoring role while still handling his point-guard duties.
Big shots big part of Wake's game  | ajc.com
Smith, Wake Forest's senior point guard, hit game-winners against Virginia Tech and Miami as a sophomore two years ago and is flourishing in late-game situations again this year. • He made a 3-pointer to halt a second-half Richmond run in a 74-68 overtime victory on Dec. 31. • Smith scored nine of his career-high 28 points in the two overtimes to help defeat Xavier 96-92 on Jan. 3. • He helped knock off Maryland with a game-winning basket in yet another overtime victory, 85-83, on Tuesday.\
UNC's Williams says college basketball is 'hand-to-hand combat' - WRALSportsFan.com
"There's no question the game has gotten way too physical," said Williams Monday. Williams spent six years on the Rules Committee arguing that point. He said "the easiest way" to reduce some of the physical play "is to call more fouls." "The game of basketball is supposed to be a finesse game," Williams said.
Pushed to the limit - EagleTribune.com, North Andover, MA
But No. 3 on the Wake Forest-bound senior seemed to flip a switch. Desrosiers responded, buoying his team with a thunder dunk followed by a three, a feed to Zenevitch, who was hacked and made a pair, and a pullup jumper. The lead stretched to 42-34, and the Lancers couldn't close the margin. Desrosiers scored a season high 20 points along with 12 rebounds and 4 blocks, but it was the unsung Raiders who provided the cushion.
Hinds, Mount Vernon top White Plains | LoHud.com | The Journal News
Hinds, a 5-foot-11 junior, dazzled the near-capacity crowd with his jaw-dropping mid-range game, scoring 21 points and recording three steals.
Neumann-Goretti Proving to be Force Nationally
"We are all feeding off of each other," said Chennault. "We have a common goal to win as many games as we can, then win the districts, Catholic League, and the states. We really bonded on the trip to Hawaii. It was just us, so we came together in every way."
Cougars win backcourt battle, game - CharlotteObserver.com
While Vance dominated on offense, the Cougars also locked down Terrell on defense. Terrell, who has signed with Wake Forest, scored 14 points, than half his average. He was guarded mostly by Rankin, also being pursued by Wake Forest. Deacons coach Dino Gaudio was at the game. Terrell picked up his third foul with 1 minute, 36 seconds left in the first half, putting him on the bench for most of the second half.
King Fisher Society Student-Athlete of the Week - David Weaver
Wake Forest senior David Weaver has been named the King Fisher Society Student-Athlete of the Week. The award, sponsored by the King Fisher Society, seeks to honor a student-athlete who has excelled both on and off the field as a Demon Deacon.