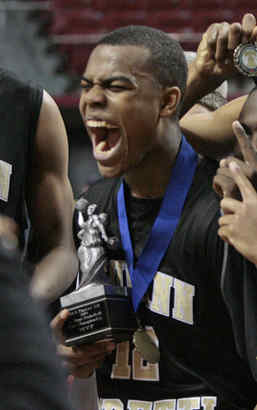 Over the past week, Wake Forest's future stars were shining at the most important time of the year - tourney time.  Click through for links and coverage of the next wave of Demon Deacons!
It has been quite a week for the Deacons in the high school ranks.  Our 2009 and 2010 recruits all remain in their state tournaments and have been putting up some nice numbers as well.
2009
CJ Harris - We covered his first game on Wednesday, in which he racked up 24 points, 5 steals, and several rebounds as Tabor handled Charlotte Vance easily.  They had a much closer contest Friday night against Greensboro Page, but all three guards in Tabor's lineup contributed to get the victory.  CJ finished with 13.
Ari Stewart - Ari finished with 19 points in Wheeler's first round win over Harrison Friday night.  After playing very well in last year's state tournament before eventually losing to Al-Farouq Aminu's Norcross squad, it will be interesting to see if Stewart and N.C. State commit Richard Howell can lead the Wildcats to the state championship this year.
2010
JT Terrell - His incredible season has continued in the playoffs.  In the first round, JTT put up a "quiet 22 points" in a 14 point victory over North Lenoir.  In the second round, he decided to put on another show.  Terrell scored 42 points, including six three-pointers to lead Cummings to a 92-83 victory over Reidsville.  Here is a link to a video of the performance.  I would like to personally request for Terrell to go ahead and graduate this year so that we can put him on the floor next season.  He is going to be a good one in the Old Gold and Black.
Tony Chenault (pictured in headline) - Tony Chenault is quietly having a great season as well.  The tough Philly point guard put up 19 points, 4 rebounds and 7 assists to lead Neumann-Goretti to the Catholic League Title while taking MVP honors as well.
On Friday Tony had another big performance, racking up a well-rounded 22 points, 8 rebounds, 6 assists and 5 steals while collecting yet another MVP trophy in the District 12 Class AAA final, as his squad pulled off a 80-78 victory.  I also really enjoyed this quote from the future floor leader for the Deacs -"We knew at clutch time we were going to win."
Melvin Tabb - Tabb's Enloe squad also picked up a couple playoff victories this week.  Early in the week, Tabb scored 21 points and collected 13 rebounds in a 12 point victory over Middle Creek. Later in the week, Tabb scored 22 against Knightdale to help the Eagles overcome a 6 point halftime deficit and win 74-67.
Stay tuned to Blogger So Dear for periodical updates on Demon Deacon recruits as the high school season closes and AAU season picks up in the spring.  We will also be keeping up with the recruitment of Travis McKie and Reco McCarter as well as potential late signees that Coach Gaudio and staff will be evaluating to finish out the 2009 class.  Finally, in case you have not heard, Wake Forest has pulled themselves out of the Lance Stephenson recruitment after closely evaluating the situation. 
Go Deacs!